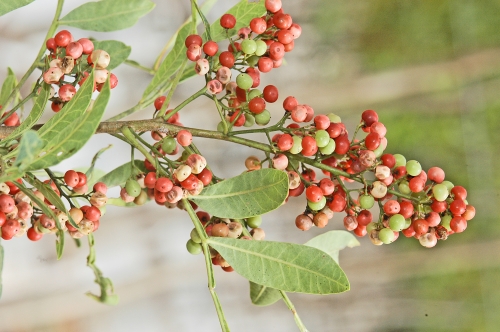 Aroeira mansa
Scientific name: Schinus terebinthifolius
Postage (m): 3,00

DAP (cm): 3 a 4

Description
Country of Origin: BRAZIL
Region: Pernambuco to Rio Grande do Sul
Family: Anacardiaceae

Size range between 5 and 10 meters.
Cup well branched. Displays evergreen, with leaves composed imparipenadas. Flowers from September to January, with small flowers and ornamental unimportant. Fruits in the months from January to July with small fruits, red, round and arranged in clusters.
Rapid growth.
Species very ornamental, especially when fruiting. It can be used in general landscaping and tree planting in narrow streets under wiring. Sought after by many species of birds.
Species of birds that attracts: wise, Sairas, Bem-te-vis, among others.