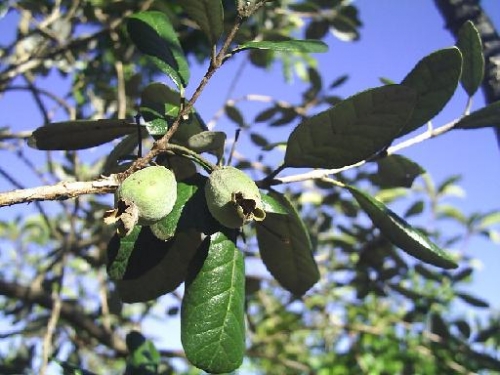 Goiaba da serra
Scientific name: Acca sellowiana
Postage (m): 3,00

DAP (cm): 3,9

Description
Country of Origin: BRAZIL
Region: South
Family: Myrtaceae

Size ranges from 3 to 6 meters.
Dense canopy and small trunk. The foliage has a green color - gray, with simple leaves. Flowers in the months of spring flowers with small pink petals and red stamens. Edible fruits and much appreciated by the people of the south, both for fresh consumption, such as jams and jellies.
Slow growth.
Species very ornamental due to the characteristics of their foliage, can successfully be used in landscaping projects, in orchards, as plant alone or in groups.
Species of birds that attracts: doves, tuins, Jacus, Parakeets, Parrots, parakeets, tanagers, thrushes, Gaturamos, Sairas, Ties, Macucos, inhambus, Jacutingas, Japins, Gypsy, Hummingbirds, among others.